About Independent Test Services ::
Independent Test Services (ITS) is approved to conduct wheel testing for all the major Original Equipment (OE) vehicle manufacturers in North America. Additionally, we are ISO 17025 accredited to perform the SAE standardized tests and uniformity measurements along with internal and external calibration of wheel test machines and uniformity analyzers and.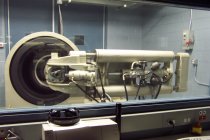 Radial Fatigue:
ITS has SAE J328 Radial fatigue test stations with load carrying capability up to 111,000 N (25,000 lb). Our radial stations will accommodate up to 26 inch diameter wheels.
Cornering Fatigue:
ITS has four SAE J328/J2530 Bending fatigue (rotary fatigue) machines which accommodate up to 26 inch diameter wheels at up to 8,000 Nm (6000 lb-f). Our eccentric mass bending fatigue machine rapidly tests wheels to high cycles.
Impact Testing
:
ITS can perform both new SAE J175 and old SAE J175, in addition to numerous other impact test configurations. The machines are fixtured for 13, 30 and 90 degree inclinations.
Control Systems and Equipment Sales:
Fatigue Test Equipment:
ITS has developed a database and
control systems
that ar
e unique to wheel testing operations. Our control systems can be customized to your radial and rotary equipment making testing easier and more effecient.
Uniformity Analyzer Machines:
ITS
can
retro-fit existing uniformity machines or build custom manual or automatic measuring machines to suit your needs.